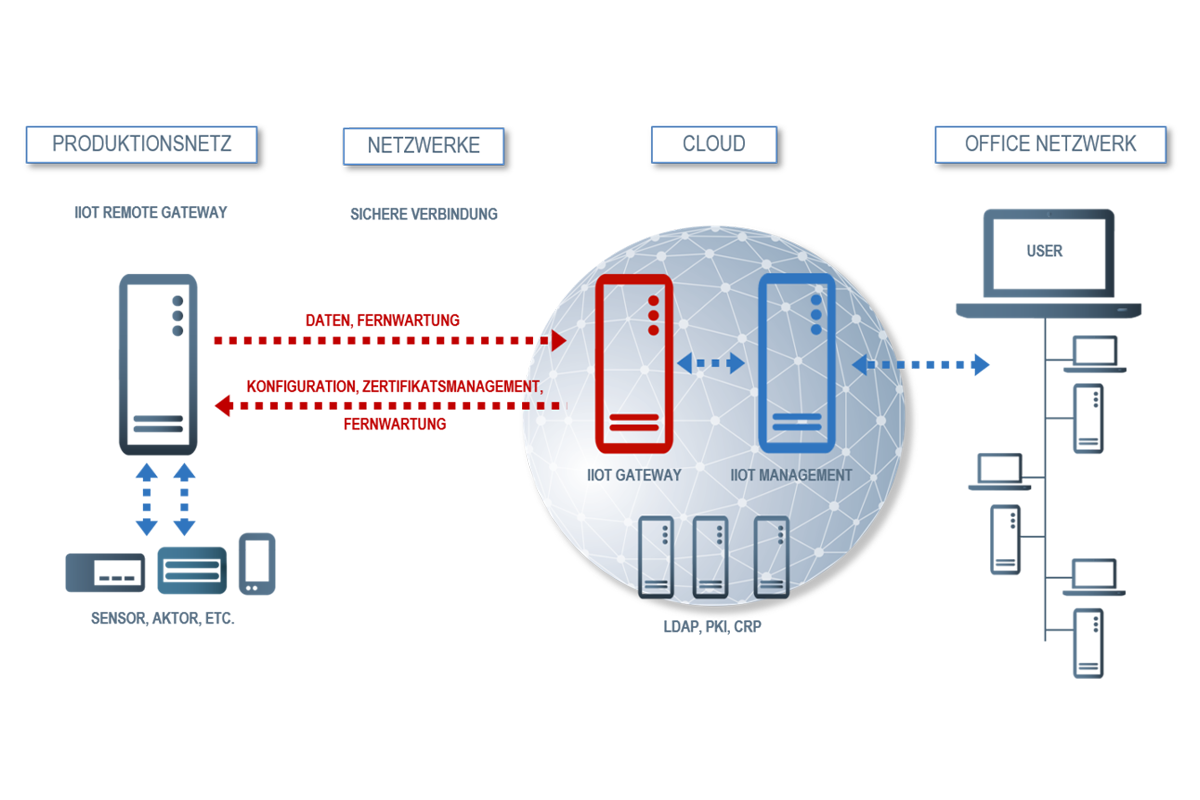 Smart maintenance – secure communication over insecure networks
The term Internet of Things came was coined more than 20 years ago. Today, IoT has already penetrated a wide range of sectors such as healthcare, finance, retail and consumer electronics. Many consumers will be familiar with common applications in the Internet of Things from their homes. In addition to voice assistants, applications also include smart devices such as refrigerators or heating controls. Consumers are becoming much more tech savvy and technology is available at affordable prices, not just for a select few. An estimated 25 billion IoT devices will be in use by 2021.
At the other end of the scale Industrial Internet of Things (IIoT) focuses on applications in the business sector – for example controlling machines and systems such as wind turbines or computed tomography technology. IIoT solutions are therefore present in many areas. Currently manufacturing, automotive and healthcare are the most prominent sectors using IIoT technology.
Digitalization and networking
The Industrial Internet of Things (IIoT) describes the digitalization of processes along the value chain and networking all components involved in these processes. For companies and their employees, this means connecting office IT and operational technology (OT) in production. This affects both the structure and responsibilities of two worlds which were previously strictly separated. It is now essential for businesses to consider production infrastructure in their IT security strategies. Meanwhile, there are completely new attack vectors introduced by connecting machinery that must be monitored and protected by IT administrators.
Manufacturers benefit from greater efficiency in IIoT along the entire value chain – from operations and services to engineering, remote maintenance and product supply. As a result, the Industrial Internet of Things will probably have over 46 billion connections by 2023.
Secure remote access
Secure remote access between remote technicians and machines is essential for keeping production running both today and in the future. Finding quick solutions when machines fail is crucial today for a business to succeed. Customers in the manufacturing industry simply cannot afford long downtimes and expensive travel costs. NCP Smart Maintenance ensures that businesses can meet this challenge. It ensures fast and efficient connections between the service technician and the machine. Thanks to secure encryption algorithms and efficient management, machine failures can be rectified within a few hours. It does not matter where the technician is.
Would you like to find out more? Visit our website at: https://www.ncp-e.com/en/solutions/security-for-iiot/