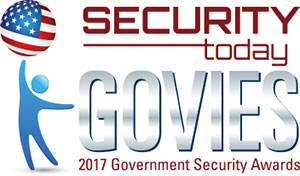 NCP Secure Enterprise iOS Client Wins Government Security Award
The Government Security Awards ("The Govies"), organized by Security Today magazine, once again bestowed its top Network Security honors upon NCP.
The awards were presented at a ceremony during ISC West, the largest security tradeshow in the United States, from April 5-6, 2017 at the Sands Expo Center in Las Vegas, Nevada.
Every year, the awards recognize the best new IT security product releases for their contributions to IT professionals working in federal, state and local government agencies and their private sector partners.
NCP's Secure Enterprise iOS Client won the Network Security Product Platinum Award, a category that NCP has won three times before.
Now in its eighth year, The Govies pay tribute to state and federal government security products in more than 20 categories.
The awards are held by 1105 Media's Infrastructure Solutions Group, publishers of leading media titles for IT security professionals including Security Today, GovSec, Campus Security & Life Safety, Networking Security and Dealer Strategies.
Entrants are judged against criteria such as features, innovation, user friendliness, interoperability, quality, design, market opportunity, technical advances, scalability and impact within the security industry.
Shortlisted nominees in each category are announced a week before the event. This is followed by an awards ceremony held by Security Today, where the top two entries in each category are unveiled. Runners-up receive a Gold Award and the winners receive a Platinum Award.
The NCP Secure Enterprise iOS Client is a leading industry solution for establishing a highly secure, reliable VPN connection between a corporate network and Apple smartphones and devices.
It is one of the first products to allow government agencies to configure, manage and administer VPN connections with iOS devices easily and in full compliance with regulations from a single console.
Featuring a combination of strong, yet simple, authentication (users can authenticate using TouchID), PKI certificates and central enterprise management, government agencies now have a cost effective VPN management solution for the most popular mobile operating system in use today.
Apple's smartphones and tablets are the popular business choice. The iOS operating system presently accounts for 66% of all smartphones worldwide and 71% of tablets.
NCP Secure Enterprise iOS Client, to be released during Q2 2017, raises the bar in terms of reliability, stability and security for the Apple iOS client platform. It is the first VPN client to offer enterprise IT professionals centralized management and seamless integration for securing the connectivity of Apple iPhone and iPad devices. Unique properties include support for multiple networks (IPSec/SSL).
In particular, it makes use of NCP's patented Path Finder Technology that enables remote access even when the device is located behind firewalls or proxies that might otherwise obstruct the establishment of an IPSec tunnel.
Another plus point is the product's strong authentication that provides comprehensive protection against access by unauthorized third parties. Data encryption supports OTP (One Time Password) tokens and PKI certificates.
From an end-user point of view, the NCP Secure Enterprise iOS Client is extremely easy to use, continuously updating them on security status while the VPN is established and when it is disconnected. Detailed logs keep helpdesk operators updated with any unforeseen issues.
Finally, the NCP Secure Enterprise iOS Client is optimized for management by NCP's Secure Enterprise Management (SEM) solution to allow processes such as the administration and distribution of user configurations and certificate updates to be centrally managed.
NCP has been serving government agency customers for more than 30 years. Over this time, NCP has built up dozens of long-standing relationships with federal and state departments as well as with essential national services like law enforcement and defense.
Having a distinguished pedigree as a supplier of reliable VPN security connectivity solutions to governments is a key reason behind NCP's consistent success at The Govies.
In summary, NCP is delighted to be honored once again by Security Today for its role in helping to improve the lives of government IT professionals.
Apple's iPhone and iPads are currently among the most popular devices with public sector personnel.
The arrival of the NCP Secure Enterprise iOS Client gives IT departments a simple yet secure and reliable way to manage the remote access connections of thousands of government employees.