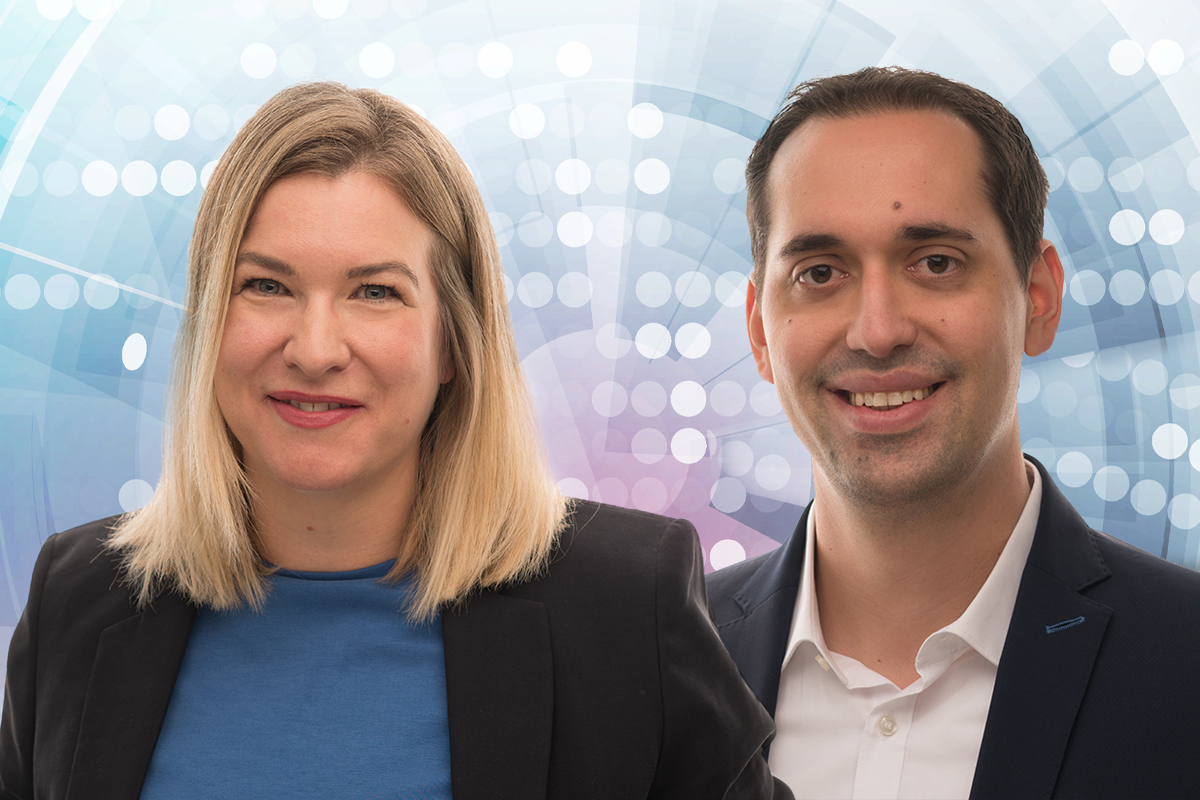 NCP Talk with our product management team
In today's issue of NCP Talk, we are speaking to the NCP product management team. Both Stephanie and Manuel have worked in product and project management at various companies. Together, they have years of experience in that field and are just the right people to answer our questions. They were happy to share what their work is like and how satisfied they are working for NCP.
Everyone has probably heard of your job title before. But what exactly do you do as a product manager?
As product managers, we liaise between technical teams in development and system engineering, as well as between marketing, sales and management. We coordinate the development of the NCP products throughout their lifecycle and always keep an eye on what is happening on the market.
Stephanie summarizes their role in three key words: "Conceptualizing, organizing and informing." Since she is also primarily responsible for one of the NCP-VS-NfD products for processing classified data, a structured approach is essential to her work.
Where does your affinity for software come from? And what excites you about the IT industry?
In this point, the paths of the two colleagues are somewhat different:
"I came to IT somewhat later in my career. Prior to studying business information systems, I completed two other apprenticeships in completely different areas." (Stephanie)
For Manuel, however, software and technology have always matched his interests – but initially in a different field. During his first degree in sports science, he specialized in soccer match analysis. Since this involves plenty of data crunching, his skills developed more in a technical direction over time and he finally arrived in the IT sector at NCP.
Both Manuel and Stephanie are happy to have landed in this industry. They both think that the IT sector is particularly dynamic and varied. It's not a sector where you can rely on what you know already: New technologies and products are constantly being developed and they both recognize the need for keeping pace with the latest innovations through networking, market research, seminars and training courses.
How do you work as a team? Do you share the same work or have your own areas of expertise?
The fact that the two colleagues get along very well is obvious from the outset. And they also agree on this point. They are a well-organized team and work effectively together. Both of them have fixed tasks and customers to look after. It's important to both that everyone in product management is aware of priorities and what everyone else is doing. For this reason, the team meets regularly at set times each week to share status updates.
What challenges do you face most often in your work?
The biggest challenge is to always remain flexible and adaptable (just like our products are). No day is like any other and you must always be prepared to adapt your priorities:
"Sometimes a customer has a problem spontaneously, sometimes you have to reorganize a project at short notice. There is always something new that needs to be dealt with. But that's what makes the job so interesting." (Manuel)
What goals have you set yourself for your career at NCP?
Both have clear ideas for the future: Manuel explains the product management team connects closely with their customers and always aims for the best possible solution. That means that they must identify and quickly implement changes to ensure that NCP's products are the most innovative. Stephanie adds that it is also important to further strengthen NCP's position as a modern IT security provider, which includes its cloud-compatible products. She also attaches great importance to organizational skills, open communication and her technical understanding, which will certainly help her achieve these goals.
What would you like to share about NCP as an employer?
NCP has grown strongly in recent years. Many new employees have joined the team, who have brought individual expertise and inspiration with them. NCP attaches great importance to good collaboration on a personal level, which is very important to the two colleagues from product management.
Last but not least, a personal question: Stephanie, you're not just a product manager, you're also a mom. How do you balance work and family life at NCP?
"I usually manage work and family fairly well, but there are always challenging phases – as all parents with small children know this winter, it feels as if at least one child is always sick. Homeoffice opportunities and flexibility on the part of the employer and employee are important here. To make things work well, there has to be some give and take."
Manuel, You're a sports fan. Was the sponsorship of the Nuremberg Ice Tigers a great incentive for you to start at NCP?
"Yes, I love being involved in sport myself and I also enjoy watching the home teams in Nuremberg." NCP's sponsorship of the Ice Tigers resonated with me and influenced my decision to join the team. A great employee benefit at NCP is that you can visit the home games for free."