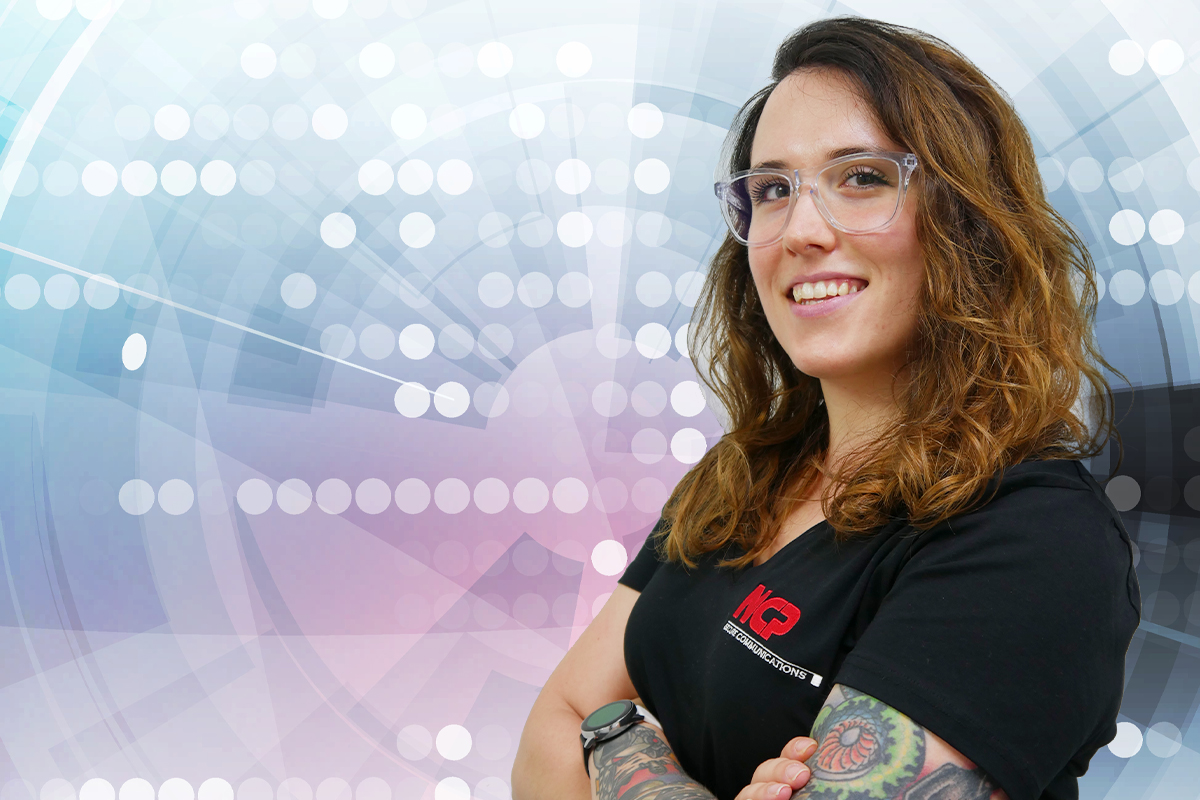 NCP Talk with Erica, Systems Engineer at NCP
Erica got her master's in Simulation Sciences at RWTH University in Aachen in April 2020. Shortly thereafter, she started her job as Systems Engineer at NCP in May 2020. Here she has taken on many different technical roles and has shown mastery of the German and English languages, by helping bridge the gaps between customers and NCP using both. Outside of work she enjoys spending time in nature and taking on new experiences, whether that be by traveling or simply just trying something new.
Erica, you've been with us since a little over a year now, what would you like to share about working at NCP?
NCP has a small sized team with a big personality. There's always something to do. The tasks are constantly changing to tend to our customers and their needs/wants/desires, which keeps things fresh. There is never a dull moment I'd say. Since the tasks are always changing, this influences the team to be overall more agile, adaptable, and "roll with the punches", so to say. On top of that, I especially like that there is room for creativity, in the sense that you can find your niche and work towards that niche. This has helped me personally to start trusting myself more in my work and professional standing.
What tasks are typical for your role?
I do mostly what you would expect from a Systems Engineer: troubleshooting, error analysis, teamwork and collaboration, documentation, and so on. However, a large part of that is done with customers directly in their environments. That results in a lot of meetings and support sessions with these customers when they need it, which I find unique compared to other typical engineering work. My personal focus is all things relating to scripting tasks within the NCP VPN central management software system. This includes creating, editing and troubleshooting different scripts using Python, a REST-API, and a NCP specific scripting language developed by NCP. In addition to that, in a recent project I took on the role of so-called "Scrum Stakeholder." Here I continually work alongside colleagues from development and project management to develop and demonstrate a new software component to a customer. So, like I said, there is always something to do.
What do you particularly appreciate about your work as a Systems Engineer at NCP?
The people. We are a small but supportive team that works together to solve problems and we have fun doing so. There's always an inside joke going around too, which is great. I think this is important for a job, to make sure that everything is not taken so seriously all the time. This is beneficial to a work-life balance and being able to not be so stressed out all the time.
Where does your enthusiasm for IT come from?
I always have been very passionate about technology and wanted to know how the world works in greater detail. When I was trying to decide what I wanted to do after my master's degree, I thought that an IT Systems Engineer for VPN solutions could be a good direction for me to go in. IT systems was brand new to me, so I knew I wouldn't get bored and still be able to apply my technical skills and experiences. The pandemic also had an influence on my enthusiasm. This is because it has shown us that everything can change from one day to the next, so I thought "What better way to stay adaptable than to start a career in IT?" Especially to do so for a company that contributes to making home-office during the pandemic possible.
How do you feel about the number of women employed in the IT industry?
Well, from my personal experience, both in my bachelor's and master's degree, there were always only a handful of women in a large population of men. That became my normal, so it was not something I really thought about, just something I got used to. Now at NCP, it happens to be that I'm the only woman in my department. This is neither a good nor bad thing, it's just the way it is. I often wonder why that is though. It might be a matter of individual choice or maybe social expectations still play a role. What I can say is, at least in my time at NCP so far I have noticed new female faces popping up in different technical roles around the company. So, it is clear that NCP has actively been trying to recruite more women (i.e., for jobs in system engineering, development and product management.) Which frankly, I think is great. It shows that times are changing so I am excited to see what the future holds.