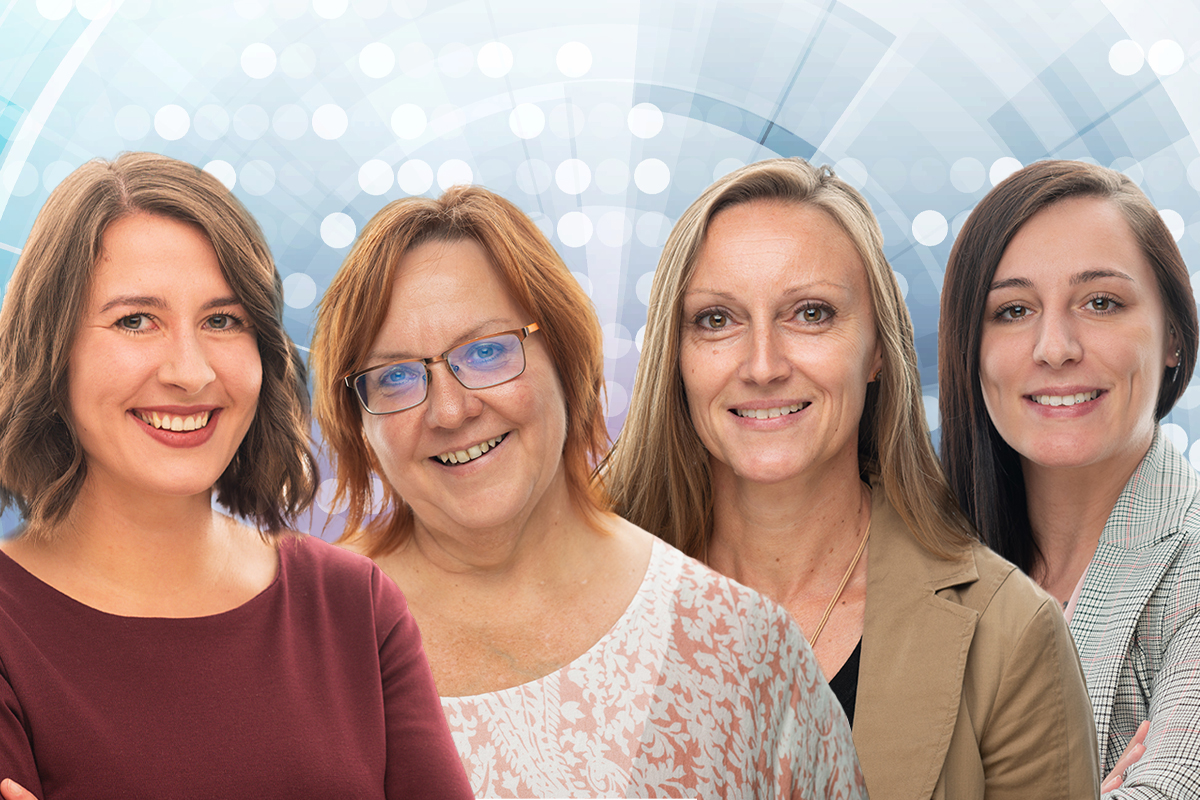 NCP Talk with our internal sales team
Today we would like to welcome as our guests four women from our internal sales team. When you step into their office, it is clear that Anna, Daniela, Janine and Martina are a well-established team who also get along well outside of work. They support each other throughout their work such as preparing quotes and invoices or compiling statistics. We wanted to find out what they thought about sharing the office with friends. We also put them to the test to find out how well they really know each other. Let's see what makes them tick!
You are already a well-established team and you also get along well outside of work. Does this make it easier to get the job done at NCP?
All four quickly agreed on this question. It definitely helps if the team get on well on a personal level at work. But there is also room for discussion when issues arise and they always manage to find a consensus, A great help here is Daniela's many years of experience, she has been working at NCP for over 20 years and her knowledge is of great benefit to the team. We also found that the fabulous four have a lot of fun at work:
"We have really grown as a great team and we know how to have fun while getting things done. This makes it easier to get on with each other and we are a great support for our account managers and customers as a responsive and flexible team." (Martina)
It's not always easy to combine a career and being a mom. How does having a career and parenting work at NCP? Can you share your experience with us?
Both moms and women in our internal sales department emphasize that NCP is happy to support its employees when they are expecting a child. Flexible working hours and working from home help to alleviate some of the practical complications of parenting. This was a great advantage, especially during homeschooling in the pandemic. It is a major concern of NCP to support employees returning to work after parental leave. Janine rejoined the company nine months ago after her parental leave. She started with 15 hours which can be flexibly increased or adjusted at any time.
Especially since the coronavirus pandemic, the social aspect of working life has declined somewhat in recent years. What do you think about this development?
One thing is clear: the four women enjoy meeting their colleagues in the corridor or in the offices to exchange a few words. Social contact is important to them and they are glad that it has increased again in recent months, even if it is not as it was before.
"I missed the personal contact very much, because I like to go one or two floors below and clarify things quickly and easily on site. In the meantime, some colleagues have found their way back into the office again, which is a positive development, especially because NCP has grown considerably in recent years. And now we can get to know new colleagues personally." (Anna)
Due to the high demand for our solutions and other challenges that the coronavirus pandemic has brought, our internal sales team can look back on a busy time, but are also proud of their performance (and quite rightly so, as we see it):
"It was a very stressful time. Each of our customers and partners increased their licenses and were supplied with them by us as quickly as possible. We worked very well as a team."(Daniela)
Last but not least, we put our internal sales team to the test to find out how they really know each other's routines. We have to say they did an excellent job.
On the question of "who drinks the most coffee", everyone agreed that the internal sales office would not work without coffee. They all like to drink a lot of coffee.
The next question was whose workplace was the neatest. We quickly realized that there are no concerns in the office here. The answer was quite simple: Everyone is very tidy!
As the team are all women, we wanted to find out if there is any truth behind the stereotype and asked whether there was a chatterbox among the team. Everyone agreed that they all liked to talk but whoever was crowned with the title of team chatterbox remains a secret they will keep for themselves.
"Come on. We're women! Any questions?!"(Daniela)
The only question on which there was some disagreement was this: "Who is more of an early riser or who is more of a late riser?" Nevertheless, there is a small tendency to be seen. Anna, Janine and Martina like to rise early. The name Daniela was often mentioned as a late sleeper, even if she doesn't really want to admit it herself. But it doesn't matter either, because all four of them are always on time.