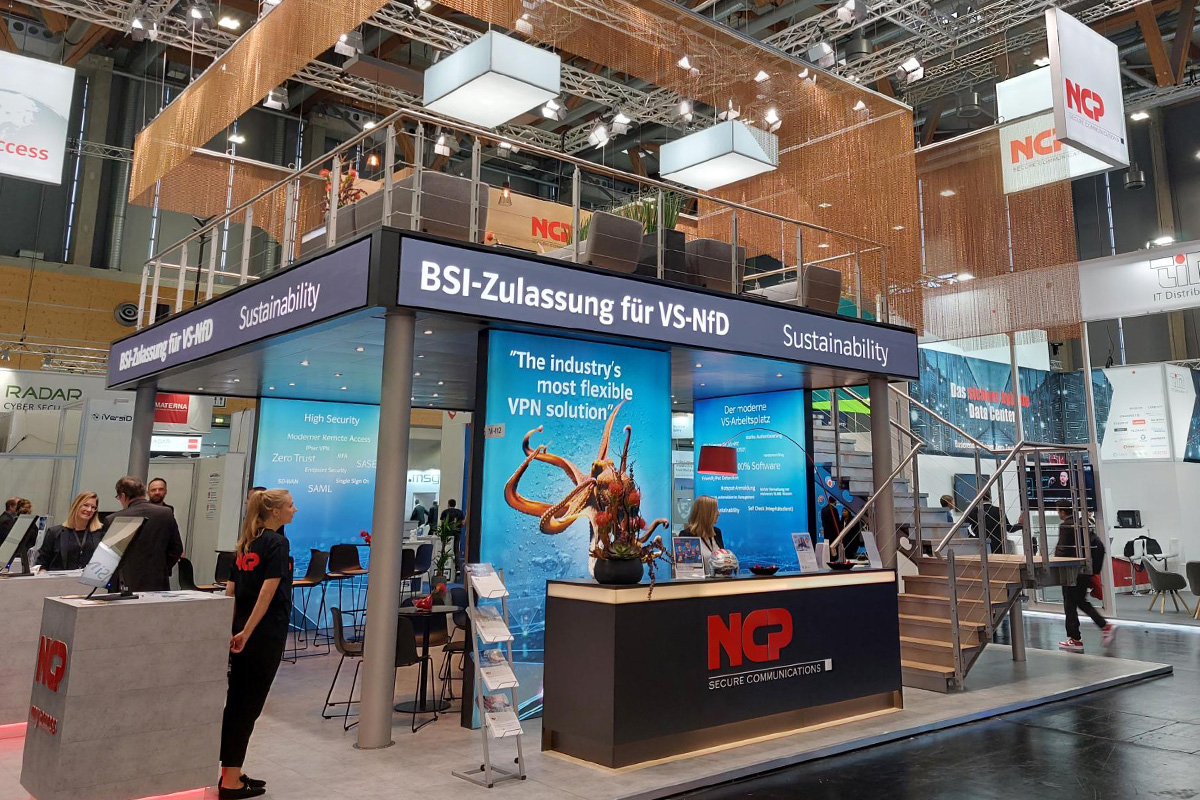 International IT Security Events in 2023
In person events offer the best opportunity to network with IT security professionals, get to know new products and discover current trends. We present our overview of the most important IT security events around the world in 2023.
For a while the coronavirus pandemic put the brakes on many established conferences and trade fairs on IT security. Although many events were held online, businesses and professionals have much to gain from attending events and networking in person. The vast majority of security events taking place in 2023 are once again attendance events.
Key IT Security Events in 2023
The following is a comprehensive overview of the most important IT security trade fairs and conferences around the world in 2023. Experts from NCP will also be attending a number of these events and look forward to meeting with you this year.
January 24, 2023, digital trade fair
This online-only event focuses on global economic and political changes and takes a look at how companies can respond to them. IT security is just one aspect of the program, the event also deals with cyber resilience and supply chain issues.
February 8–10, 2023 in Mainz, Germany
IT Defense celebrates its 20th anniversary this year and is one of the largest international conferences on IT security in Germany. IT security experts, well-known hackers and book authors will also be attending the event.
Airport Operations, Safety and Security Conference
February 16–17, 2023 in Munich, Germany
This event presents the latest in security technology and trends for airports. Topics focus on cyber security, data compliance, risk management, threat assessment, monitoring systems and behavioral analysis.
59th Munich Security Conference
February 17–19, 2023 in Munich, Germany
The world-renowned Munich Security Conference is a political rather than a technical event attended by hundreds of decision-makers from all over the world. A number of side events on technology or trends such as digital trust supplement the main program. In recent years, the event in Munich has also included a cyber security conference with leading experts from business and research.
Cyber Intelligence Europe 2023
February 28 –March 1, 2023 in Bern, Switzerland
In 2023, Cyber Intelligence Europe will take place for the first time in Switzerland. It is attended by IT security experts from Europe and North America, who will be visiting Bern this year to talk about current cyber-crime trends and how to defend themselves against threats.
February 28–March 1, 2023 in Munich
More than 150 IT security experts will meet at Hilton Park Munich this year to discuss securing IT and OT environments in the manufacturing industry.
March 7, 2023 in the Lorzensaal in Cham (Switzerland)
The bigger and more important the Internet of Things becomes, the greater the dangers involved. The leading topic of the Security in IoT/OT Conference this year is "IoT Door Opener for Cyber Attacks?". In several keynotes and presentations, the organizers and participating companies will explore current IoT threats.
March 14–16, 2023 in Dubai
The Gulf Information Security Expo and Conference has been the largest gathering of cybersecurity technology experts in the Arabian Gulf region since 2013. Companies from more than 40 countries will be presenting their innovative solutions and products from the world of IT security – including NCP.
Automotive Cybersecurity Detroit 2023
March 21–23, 2023 in Ann Arbor, Michigan
Not just vehicles are becoming more connected, there is also a profound change taking place in factories. For the thirteenth time, the Automotive Cybersecurity trade fair will take place in the USA. We also recommend a visit to Connected Vehicles USA 2023, which will also focus on cybersecurity strategies and networked technologies.
April 24–27, 2023 in San Francisco
The RSA Conference is one of the most important IT security events in the world. In 2023 it will take place again in the USA at the Moscone Center in San Francisco. On average, about 45,000 people attend the conference each year.
European Identity and Cloud Conference 2023
9–12 May 2023, hybrid event in Berlin
Organized by KuppingerCole, the event is billed as "Europe's leading conference on digital identities and cyber security". More than 180 sessions are planned, in which more than a thousand security experts will participate.
May 9–12, 2023, hybrid event in Broadbeach (Australia)
Over the course of four days, Australia's oldest information security conference will take place on the Australian Golden Coast. More than 50 speakers will be attending and over 900 participants visit the event each year. In 2023, AusCERT also celebrates its 30th birthday. Our experts from NCP will also be taking a trip down under to meet you there.
May 22–24, 2023 in Berlin, Germany
This year, the Congress for Electronic Identification Security invites you to an attendance event at the Hotel Palace Berlin. The most important topics this year include digital confidentiality, modern citizen services, digital payment structures and cyber security.
Information Security in Healthcare Conference
June 14, 2023 in Cham (Switzerland)
The Information Security in Healthcare Conference will take place for the ninth time in 2023. It focuses on the field of information security in the healthcare sector.
June 20–22, 2023 in London
"Finding solutions to problems and making informed decisions" – is the mission of Infosecurity Europe which opens its doors in mid-2023. Once again this year, the trade fair will be holding all kinds of information and exchange opportunities on the topics of cyber and corporate security with an illustrious selection of speakers. Our NCP experts look forward to meeting you there.
October 10–12, 2023 at the Exhibition Centre Nuremberg
it-sa has been held regularly in Nuremberg since 2009. It is one of the largest IT security trade fairs in the world. Last year, 700 exhibitors and more than 15,000 visitors took part in the essential event, as well as more than 1,800 participants online.
November 7–9, 2023 in Berlin, Germany
Modern solutions for digital administration and smart urban development concepts are currently among the most sought after future trends. SCCON has developed into the largest conference and fair in these areas and aims to attract more than 12,000 participants and over 400 speakers to Berlin again this year to discuss together and find new approaches.
NCP will also be attending several events. Meet with us live in person to discover the benefits and advanced performance of universal Virtual Private Network (VPN) technology. Follow this link to see a list of all NCP events: